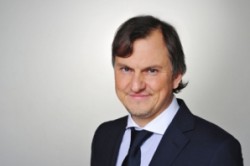 Ask our legal expert!
Gencs Valters
Claim your FREE copy
Doing Business Guide in the Baltics.
Registration of trademarks in the European Union: evaluating similarities and differences between EU trademarks
Opposition Division of the European Union Intellectual Property Office (EUIPO) as well as the Board of Appeal in the appeal proceedings evaluated similarities and differences between the following European Union trademarks:
Registration of the opposed trademark in the European Union was filed on November 2, 2014 and the EU trademark was registered for several services in Class 37 with regard to building and construction. Earlier European Union trademark was registered not only for building and construction services, but also for transport and sales services.
It was evaluated and declared that the services that both EU trademarks are registered for are either identical or similar. Nevertheless, it was not sufficient enough to declare the contested registration of trademark in the European Union invalid.
Both Opposition division as well as Board of Appeal of EUIPO decided that these are specialized services, therefore the EU trademark registrations are directed to the professional public with a high level of attention. Thus, the visual, aural and conceptual perceptions of EU trademarks are dominant when evaluating the possibility of likelihood of confusion between these European Union trademark registrations.
Board of Appeal compared both EU trademarks and determined that the similarity is quite low, taking into account that the consumers are specialized in this area, thus familiar with services that are provided under these European Union trademark registrations as well as other brands.
The only similarity between both EU trademark registrations is "POLIM*X" where the ending of the word is different. In addition, the contested European Union trademark is figurative in colour blue and with stylized letter "M" that resembles a diamond. Moreover, the contested EU trademark consists not only from the word "POLIMEX", but also "Mostostal", which intensifies the difference between both European Union trademark registrations.
Accordingly, the Board of Appeal decided that there is no likelihood of confusion between the both registered trademarks in the European Union and thus the contested EU trademark registration "Polimex Mostostal" is in force.
To find out more about the registration of trademarks in the European Union or the opposition against EU trademarks, please contact our English speaking lawyers at info@gencs.eu.
T: +371 67 240 090
F: +371 67 240 091